---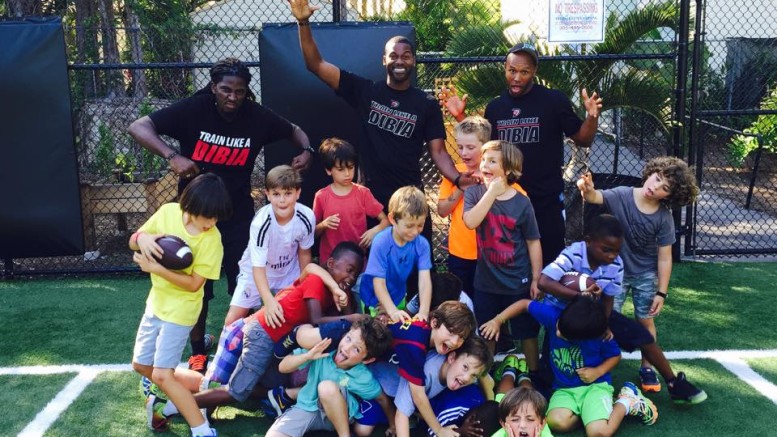 Former UM Hoops Player Leads Growing Youth Camp Empire, Looks Towards Global Expansion
For Brandon Okpalobi, a former University of Miami basketball player and founder of DIBIA Athletic Development, creating an international, Miami-based sports training company wasn't always the priority. In the beginning, his priority was information technology.
"I wanted to be an I.T. consultant," Okpalobi said.

After walking onto UM's basketball team as a freshman in 2000, the New Orleans native played four seasons as a Hurricane. Okpalobi even earned an athletic scholarship in his senior year for his talents. Although he would graduate with a few years of college basketball under his belt, the computer information systems major still had his mind-set on a career in I.T.
"I graduated and wasn't going to accept anything less than $60,000 when the Atlantic Coastal Conference selected me for the first business development assistantship with the Orange Bowl Committee. It was basically $1,000 a month and at first I said 'No, you're crazy,'' Okpalobi said. "But when the offer came, it was the only one had, so I took it. It was probably the best decision I made after college."
Okpalobi's time with the Orange Bowl Committee would kick-start a promising career in the sports industry, although he stayed on the information technology and marketing side of operations. That was until he founded DIBIA Athletic Development, a sports training company that offers camps and clinics to athletes of all ages in Miami and abroad.
Okpalobi was able to find a name and a purpose for his company in something personal to him – his middle name. 'Dibia" translates to "master of knowledge/wisdom" in Igbo, a West African Dialect.
"My middle name, Azuka Dibia, is two names, but when you split them they have different meanings. At first, I was tossing around names like 'Basketball for All Sports,' but I knew that wasn't going to impact anyone. Then I just looked at my middle name and that was perfect," Okpalobi said.
DIBIA Athletic provides a multitude of different services for the sports community. He offers sports training for athletes as young as five years old all the way up to the professional level. Okpalobi's basketball experience at the University of Miami has naturally allowed him to conduct hoops-focused practices. Through his connections, he has been able to bring in Miami sports alumni such as Alonzo Mourning and James Jones to speak and work with young athletes.
"We tell our kids that life is full of opportunities, not entitlements. Even coming to camp is an opportunity, not an entitlement. We tell them that when they train, they need to train to be as great as they can be," Okpalobi said.
Okpalobi has also helped to set up a successful non-profit community outreach initiative in the DREAM program. Since 2012, the program has given out over 300 scholarships to children in need so that they may participate in DIBIA activities.
The timing of DIBIA's founding meshed well with a significant basketball event in Miami – the arrival of LeBron James. Okpalobi claims that the success of DIBIA is interconnected with the success of Miami's professional basketball team.
"When LeBron James came to Miami, he made basketball very popular down here. He's the best player on the planet, which means that the kids in the community will want to be like him," Okpalobi said.
As the game of basketball spreads in popularity around the globe, DIBIA Athletic has grown beyond its original intended audience – the company now has legs in New Orleans, Los Angeles, Baltimore and even outside of the United States.
"My best friend from college is from Bermuda and played for the Bermuda National Team," Okpalobi said. "I used to go there for a festival that was based around cricket. I said to him 'Why don't we start a camp here?'" And so they did.
According to Okpalobi, a crucial aspect of setting up international sports camps is adjusting to the culture of the new locations.
"The big sports in Bermuda are cricket and soccer, they don't have American football. There's a big cricket weekend there, and after that we do our basketball camp," Okpalobi said.
In addition to Bermuda, Okpalogi has set his sights on expanding to the Cayman Islands and Nigeria.
"They watch basketball as much as us and watch Sports Center as much as us. All of the kids have their own teams. The game has grown tremendously," Okpalogi said.
Despite his recent successes, Okpalogi isn't looking to settle with the strides he's made so far. With the help of Bo Smith, a trainer that has worked with NFL wide receivers Andre Johnson and Antonio Brown, DIBIA is setting up football-focused camps at some of its locations.
"Each year, we're looking to expand to two new cities and two new countries. We want to add more camps. Next year, we'll become involved in sports management, including sports camps, businesses and non-profits for athletes. Each year, we're looking to step into something different," Okpalobi said.