---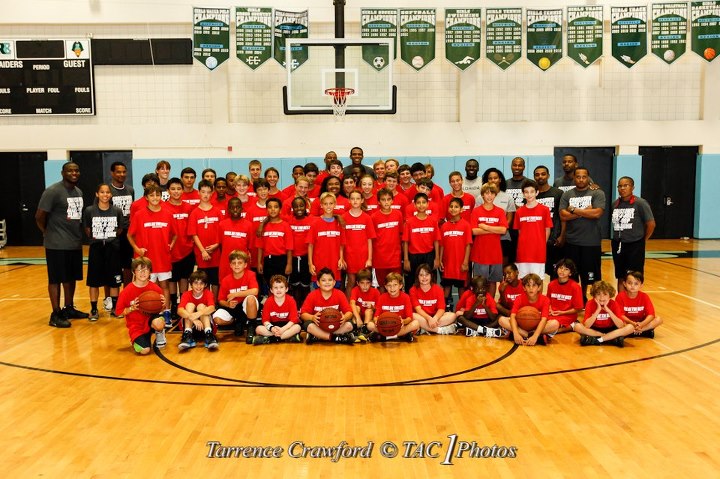 James Jones and friends share basketball, life skills
NBA champion and Miami Heat guard, James Jones, co-hosted the first annual Dibia Athletic Development Summer Basketball Camp with his former University of Miami teammate, Brandon Okpalobi, at Ransom Everglades that provided a unique and memorable experience for campers.
"I chose to work at this camp because it focused on the kids and the fundamentals," said Jones, who has had the opportunity to work with a host of other camps. "It wasn't about money and it's good to work with someone who genuinely cares about what they do."
Campers were coached, mentored and even received a surprise visit from NBA great Tim Hardaway, who demonstrated his patented "UTEP two-step" crossover dribble.

"I've known Tim for years and when I asked him to be a part of this he immediately said 'yes'," Okpalobi said. "He has a big heart and enjoys teaching the game to kids."
"When James Jones and Tim Hardaway walked in, it was like 'Wow!'" twelfth grade camper, Cameron Reynolds said. "They taught me a lot of little things I should do that will make a difference."
Okpalobi, CEO of Dibia Athletic Development and head junior varsity basketball coach at Ransom, called basketball his "sanctuary" and says that he saw the need to provide a rigorous skills camp given the city's growing interest in basketball.
"The community needed an intense camp that focused on making players better and not just doing the normal basic basketball drills," Okpalobi said.
"They push you harder than most camps," said Ian Spence, 14, from Miami Beach. "The coaches want you to get better."
"Each day is more challenging," Reynolds added.
More than 50 campers participated in the weeklong camp coming from as far as Brazil to participate.
Okpalobi, who also offers private basketball lessons, along with Jones, will head to Bermuda, where Jones's brother-in-law lives, to host a camp on August 6th-10th.
With the help of players like Jones and Hardaway, and other coaches from Miami and beyond, Okpalobi plans to continue to expand Dibia Athletic Development with a foundation focused on building life skills.